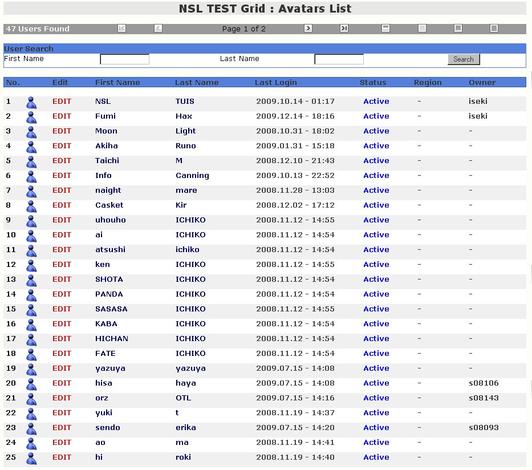 Avatars List (XoopenSim Menu)
Columns

Edit
EDIT : Go to Avatar Edit Page. If you are ordinary user, you can edit only your own avatar.
OWN : Go to Own Avatar Page. If your avatar's number is less than "Max Number of Avatars" at setting page and you are ordinary user, this link is displayed.
Status
Active : Avatar is active.
Inactive : This Avatar is inactive. This Avatar can not login OpenSim.
SLDL: This Avatar is related with Sloodle user.
ONLINE : This Avatar is online at OpenSim.
Region
If avatar is online, current login region is displayed. If avatar is offline, avatar's home region is displayed.
---
Counter: 1554, today: 1, yesterday: 0
最終更新: 2010-08-19 (木) 14:37:57 (JST) (4852d) by iseki